[FR]
Un court-spectacle sur table, musical et sans parole, où les couples se forment et se déforment dans un ballet d'objets manipulés. Un vaudeville grinçant composé de petites histoires d'amour bucoliques, badines ou tragiques, tricotées à quatre mains par un duo mixte.
[EN]
A short, wordless table show set to music where couples form and deform in a ballet of manipulated objects. A gritty vaudeville composed of bucolic, playful or tragic little love stories, knitted together by a mixed duo.
remerciements / thanks to : La Lucarne à Arradon, Vannes Agglo et le Théâtre du Cercle à Rennes
créé le 17 février 2012 / created February 17, 2012 au Théâtre du Cercle à Rennes
durée / length : 30 minutes
tout public mais plutôt destiné aux adultes (en famille à partir de 9 ans)
for all but rather intended for adults (9 and above)
REVUE DE PRESSE
/ PRESS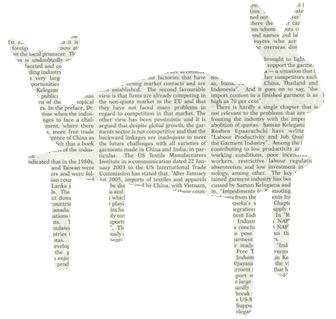 TÉLÉRAMA TTT : on aime passionnément
by Thierry Voisin 11/04/2018
COLLECTIF AÏE AÏE AÏE – MA BICHE ET MON LAPIN
« Une biche et un lapin s'aimaient d'amour tendre. Mais comment s'y prendre quand on est une… terrine ? Assis à la table de leur salon, Charlotte Blin et Julien Mellano jouent les Cupidon dans une série de romances entre toutes sortes d'objets ménagers (mignonnette d'alcool, verre à liqueur, porte-serviette, serviette de table, couteau de poche, tire-bouchon, boîte à musique…). Détournant les objets les plus insignifiants, le duo du collectif Aïe Aïe Aïe se plaît à nous montrer que l'amour n'est pas enfant de bohème mais d'imagination. Chacune des trente minutes de ce petit conte marionnettique sur table est originale, inattendue, drôle, irrésistiblement drôle. »
---
TURUN SANOMAT KULTTUURI (Finlande)
Nukketeatteriarvio: inspiroivaa ilottelua / Par Frida Maria Pessi  / TIP-Fest 13.11.2016 
« Mies tapaa naisen. Nainen tapaa miehen. Mies ja nainen rakastuvat, tottuvat toisiinsa, riitelevät ja eroavat. Nurkan takana odottaa uusi ihastus. Ei kuulosta kovin monimutkaiselta, mutta Ranskalaisen Aïe Aïe Aïe -kollektiivin käsissä yksitoikkoisesta lemmenkierrostakin syntyy ilotulitus.
Ma biche et mon lapin (peurani ja jänikseni) on hurmaavan ranskalaista ja hersyvän hauskaa esineteatteria, joka yllättää oivalluksillaan. Valoista, stereokaiuttimista ja koriste-esineistä syntyy maailma, jossa häiritään mökkinaapureiden rauhaa ja bailataan ikuisessa diskossa.
Reiluun puoleen tuntiin mahtuu runsaasti käänteitä ja yllätyksiä. Esiintyjät Julien Mellano ja Charlotte Blin kertovat tarinaa esineiden lisäksi myös ilmeillään ja rakentavat samalla uuden kerroksen tulkinnalle. Luottaisinko ennemmin kakkupaperimorsiamen viattomuuteen vai Blinin viekkaaseen hymyyn?
Esityksen asetelma on herkullista kitchiä. Esineistöstä löytyy metsäneläimiksi muotoiltuja keksipurkkeja, pieniä pulloja ja kastikekulhoja. Kokonaisuus rakennetaan simppeleillä ideoilla ja jokainen esine pääsee toteuttamaan sekä muotokieltään että tarkoitustaan. Erityisen viehättäviä ovat lumeksi satavat pitsiliinat.
Ma biche et mon lapin on niin inspiroivaa ilottelua, että esityksen jälkeen tekee mieli kurkistaa keittiön komeroon, millaisia tarinoita sieltä voisi löytää. »
---
PUTXINELLI (Espagne)
by Toni Rumbau* 14/05/2016
Arrenca el Festival Internacional de Teresetes de Palma de Mallorca
« Un espectacle sobre taula, magníficament interpretat per aquests dos bons actors que són Charlotte i Julien, amb música i sense paraules, i que ells mateixos defineixen com 'un ballet d'objectes manipulats'. El qualifiquen de vodevil que grinyola, i és potser aquest concepte del 'grinyolar' allò que efectivament millor situa les seves petites històries, que els dos actors expliquen servint-se d'uns objectes molt senzills. Aquests podrien procedir tots ells d'una d'aquestes botigues xineses d'objectes de regal a preus no superiors als deu euros, o els podríem també trobar en una parada dels encants d'aquestes que ofereixen les restes espoliades d'algun domicili petit burgès de llarga durada acabat de naufragar en la seva decadència tràgica, melodramàtica o de fi de vida. Uns objectes, per tant, que oscil·len entre el kitsch  i la ingènua cursileria quan aquesta és presa seriosament pels qui acaben sent les seves víctimes.
Objectes senzills però tractats amb molta sofisticació escènica pels intèrprets de aïe aïe aïe, no només pels petits detalls tècnico-sonors, sinó sobretot pel ritme perfecte d'una gramàtica que ajunta el gest, els rostres dels actors convertits en màscares d'unes marionetes de carn, la música -magistralment assemblada i proveïda d'un rol narratiu de primer ordre-, i uns llums precisos farcits de petits trucs luminotècnics que puntuen l'acció.
Un joc que combina il·lusions, desenganys, desacords, enamoraments sobtats, petites dosis de sexe i de vida quotidiana, un joc per tant essencialment melodramàtic.
Però potser el més interessant de la proposta és el registre amb el que tracten els objectes, per projectar en ells els vertaders drames de la vida, com si fossin un segon nivell de la vida que actua en paral·lel, entre la simbologia i el fetitxisme, i que permet sobreviure als humans contendents, els quals gràcies a aquest exorcisme envers els objectes, es veuen alliberats del 'sang i fetge' de les passions. »
*Toni Rumbau és titellaire i escriptor, fundador de la històrica companyia La Fanfarra de Barcelona (1976), del Teatre Malic (1984-2002) i del Festival d'Òpera de Butxaca i Noves Creacions (1993).
---
RECOMANA (Espagne)
« PASSIONAL VODEVIL D'OBJECTES » / recomana.cat / 08/05/2015
« Quina delícia quan podem riure'ns de nosaltres mateixos o de situacions viscudes de prop! I fer-ho amb una proposta que té la capacitat de metaforitzar-ho amb intel·ligència i sentit de l'humor no té preu.
Els bretons Collectif aïe aïe aïe exprimeixen a 'Ma biche et mon lapin' l'entesa i desentesa dels sexes amb un joc sense més paraules que el títol de l'espectacle. L'expressivitat dels actors i l'acció dels objectes manipulats relaten fascinadorament un vodevil amorós que es desenvolupa al damunt d'una taula i desborda comicitat.
Els personatges no són gens convencionals en un muntatge, però ben bé els trobaríeu a casa de l'àvia. Escultures de porcellana (la cérvola i el conill), tapets de ganxet i tot de parelles que semblen fetes les unes per les altres: la llesca i el paté, la gerra i el licor… Però el dia a dia, l'aparició de tercers, les circumstàncies… poden capgirar l'atracció inicial. Al llarg de 30 minuts, el reduït públic (condició sine qua non per garantir la proximitat a l'escenari i no perdre's detall) descobreix el destí de cadascun dels objectes oblidant completament el seu aspecte real.
Original i passional teatre d'objectes, amb un magnífic guió i ús de la música
que garanteix rialles sanes ! »
by Núria Cañamares
---
LE JOURNAL DE SAÔNE-ET-LOIRE
L'amour, encore l'amour !
« Ils sont deux et jouent Ma biche et mon lapin. Ils manipulent les objets et pratiquent de justes mimiques pour évoquer le sentiment amoureux. Avec eux, les couplent s'aiment, s'apprivoisent, roucoulent et parfois se brisent ! Les deux comédiens proposent un petit tour d'horizon des lieux de rencontre et des passions destructrices, en réservant toujours quelques surprises. Un spectacle décalé, inattendu, où tous les objets d'antan prennent vie pour nous faire rire, tout sipmlement. Absolument délicieux ! »
Stéphanie Albane
---
THE SCOTSMAN * * * * (Edinburgh)
MA BICHE ET MON LAPIN by Mark Fisher / Scotsman.com / 23 août 2012
« In this short and sweet 
two-hander, performed on a table top for a tiny audience as if by special request, puppeteers Charlotte Blin and Julien Mellano tell a tale of sex and romance using the kind of objects we associate with kitsch living-room decoration.
The biche and lapin (doe and rabbit) of the title could be the pottery figurines that take pride of place on your grandmother's mantelpiece. Your grandmother, however, is unlikely to have imagined them getting off with each other or seductively sharing the dish of pâté contained in their hollow insides.
Neither is she likely to have wired them for sound (the music is one of the show's strong points), and even in her most depraved moments, she will not have seen an image of sexual congress in a napkin penetrating a napkin ring, or a lusty bottle of spirits emptying itself into a virgin glass.
Oddly, none of this strikes one as rude or salacious. It's as innocent as the doilies that fall as snow across the miniature landscape, blanketing the cottage where two neighbours are busy making the bed squeak. For all the innuendo, this is an essentially romantic vision, a view of sexual attraction that is simple, mutual and conflict-free.
At just 30 minutes long, this wordless show is not going to change your life, but it's the kind of quirky discovery that makes the Fringe special. »
---
BROADWAY BABY REVIEW * * * * (Edinburgh)
« A FOUND ROMANCE » by Alexis Macnab / Brodwaybaby.com / août 2012
« An annoyed, travel-sized bottle of brandy shuffles over to his new neighbor's house to ask that she please turn down her television. He rings the bell. A sigh is heard within and the TV shuts off. The house opens and out onto the porch emerge a tiny empty mug. Lightening strikes! It's love at first sight; they are made for each other.
As the lights went up on the intimate set of Ma Biche et Mon Lapin starring two sculpted ceramic tureens, one a deer and one a rabbit, the audience felt a similar thrill. The human performers, Charlotte Blin and Julien Mellano, puppeteers in the French collective Aie Aie Aie, manipulate the tableware and other items with coy panache. An excellent and affecting piece of object-theatre, Ma Biche et Mon Lapin follows the romantic triumphs and blunders of napkins and pocketknives searching for true love in this modern world. For the uninitiated, object theatre is a performance style using ordinary, mostly unaltered objects (instead of puppets built for the purpose of performing) such as one might find at home, at work, or, in this case, at any particularly kitschy and whimsical thrift shop. The show features, among other things, doilies, crockery, and an ingenious use of sneaky speakers.
Blin and Mellano perform the piece with expert timing and a profound understanding of character, narrative and humor. They seamlessly shift from embodying the personae of each object, to displaying commentary on the situation as puppeteers looking on, to becoming their own characters in this tale of many crossed lovers, all without speaking a word. Delightful and captivating, funny and poignant, the small-scale adventurers of these tiny heroes richly suggest the full-sized adventure of our own lives. »
---
TOTAL THEATRE REVIEW (Edinburgh)
Ma Biche et Mon Lapin by Edward Wren / Total Theatre Review / 28 août 2012
« It all begins with a porcelain deer and a porcelain rabbit. From the rabbit comes some pâté, the deer produces some bread, and the two puppeteers eat together. This playful piece then unfolds with more and more surprises as the skilled operators, Charlotte Blin and Julien Mellano, tell a series of short stories about couples and courting.
All performed without a word on a table top, with objects to represent the various characters, Collectif Aïe Aïe Aïe's delicate little show is filled with invention and many small wonders.
The objects they use to represent the characters are very basic and not puppeteered as objects brought to life. It is more that they represent the character, and the operators help fill in the gaps by inhabiting elements of the character themselves. Now for die hard puppeteers like myself this sounds like the greatest sin to commit when operating a puppet, but there is something about Blin and Mellano's devoted performance that makes it work brilliantly. So much so that I didn't think at all about technique – I was utterly engrossed in the characters and eager to follow their stories.
In once scene we see a randy napkin and a saucy napkin holder take up residence next to a small whiskey bottle and shot glass while two flashing disco balls party late into the night – and it's not an unusual scenario in a piece so full of invention that it borders at times on the surreal. There are little speakers hidden in some of the objects that provide table top sound, and the company have even worked in a small pyrotechnic.
Such is the affection that they give the objects that when the shot glass dies and is filled with milk from a skull shaped glass it becomes quite moving. It is a show about affection, told with affection by two very skilled performer puppeteers. At only thirty minutes long I was reluctant to leave their playful and strange little world. I would certainly recommend keeping an eye out for Collectif Aïe Aïe Aïe in the future; it was an utter delight to share some time with them. »
---
FRINGE REVIEW * * * (Edinburgh)
Reviewed by Tim Wilcock / Fringe Review / 10 août 2012
« The contents of a typical gift shop come to life in the hands of Julien Mellano and Charlotte Blin as we explore growing up, love, neighbourly interaction and the general vicissitudes of life in this interesting and quintessentially French piece of object theatre. No words, just lights, music and an enchantingly intricate set.
This piece from the Rennes Collectif, Aie, Aie, Aie is probably more towards the esoteric end of the theatrical spectrum. Two ceramic objects sit on a green card table. Behind them are two puppeteers, dressed in black. Ma Biche (the hind, or deer) is the first to move. Mon Lapin (the rabbit) follows. They come to face-to-face and it's love at first sight, although the subsequent copulating activities are shielded discreetly behind a delicate piece of lace. Similar scenes are played out with a variety of other objects, including pocket knives, French lace pieces, tiny crockery, two Swiss chalets and a series of craftily concealed speakers through which the music essential to the continuity of the show is piped.
We see true love blossom, fade and then die. We see children born and grow up. We see people just coming and going. And all through objects, subtly moved around the small table by these two expert puppeteers who add colour through their own visual interaction and very neatly manage to embody the character of the objects they are portraying. There is an art to doing this without being able to use words to articulate feelings, but Mellano and Blin manage this with some exquisite facial movements – a twitch of the eyebrow here, a minor movement of the lips there, sensuality conveyed through the flicker of an eye. And although it is the human that is animating, the watching brain somehow associates these gestures with the inanimate objects centre stage.
Given we were in the cramped cellar of Institut francaise d'Ecosse in the sumptuous architectural surroundings of Randolph Crescent, the production team made great use of the space to create really evocative lighting effects, using both floods and delicate combinations of spot lighting to pick out individual objects in a manner that made them seem alive. Or was that just my imagination running riot?
At one level it's an intriguing (and short) piece of theatre that is precise, delicate, funny and, at times quite poignant. At another it's just a man and a woman shuffling a few objects around with some jangly music going on in the background. It all depends on your point of view I suppose. That's theatre for you. »
---
ANIMATIONS ONLINE (Edinburgh)
MA BICHE ET MON LAPIN by Simon Hart / 22 août 2012
« Sometimes the best theatrical treasures of the Edinburgh Festival Fringe are the small and perfectly formed ones, often hidden away in unusual performing spaces. Such was 'Ma Biche et mon Lapin', a sparkling 30 minutes of pure delight, presented by the French company Collectif Aïe Aïe Aïe in an intimate basement at the French Institute.
All we see when we enter is a small table behind which sit the show's charming and skillful performers, Charlotte Blin and Julien Mellano. They immediately begin to transform the bare space, and our expectations.
Every day household objects – napkins, corkscrews, a miniature bottle of alcohol and a glass, a musical jewellery box fashioned like a Swiss chalet – are expertly brought to life and manipulated to tell us a classic boy meets girl love story. There are some beautifully unexpected and laugh out loud twists and turns before we reach the happily ever after ending.
Such is the intense empathy that the two performers have for these mundane objects, that we also quickly sympathise with the struggles of a penknife to find and keep his true love, a napkin holder. There is also delightful, homespun gadgetry, including a tiny pyrotechnic that comes as a complete surprise and small speakers built into a china rabbit and deer, which provide a humorous soundtrack throughout.
Ma Biche et mon Lapin is a production of great style and elegance. It offers 30 minutes of pure joy and playfulness, and is totally recommended to everyone who likes to smile and laugh. »
---
FRINGE AUDIENCE REVIEWS (Edinburgh)
« It's only half an hour, but it's delightful. Think of all the appalling glazed chinaware, doilies and alpine wooden music boxes on your French Grandmother's mantelpiece and sideboard, and then imagine using them to tell a love story. If you can't work that out, go and see these two puppeteers to find out how it's done. It's so different and so right – what the Fringe should be. »
Chris Hunn
« The most tacky things are used so lovingly to tell a story of love and partnership and life it warms your heart. Perfect rhythm and great choice and exploration of the objects, wonderful. »
Christiane Klatt
« Brilliant. If you want a really funny 30 minutes in the company of household objects falling in and out of love, don't miss this show. The imagination and talent of the two presenters is wonderful. »
Alastair Gibson
TWEETS
« Ma biche et mon lapin is gorgeous. My fav show so far. Last show today at 5.25 don't miss this. » Shona Reppe ‏@shonareppe
« Ma Biche et Mon Lapin was absolutely magical, hilarious and very French. It's worth the trip » Saskia Solomons ‏@SaskiaSolomons
« Anyone looking for something surprising, delightful, different at Fringe should see Ma biche et mon lapin » Hugh Wallace @tumshie
« Just walked into a cement bollard because I was thinking about how good Ma Biche et Mon Lapin was. » Henrietta Eagle ‏@sharpeyedeagle
« Ma Biche et Mon Lapin is a wonderfully odd little show. Worth the trek. » Chris Harrisson ‏@haveyoulostme
« I'll never look at a pate dish in the same way. Brilliantly bonkers. » Ali Forbes ‏@ImAliForbes
« QH Festival Recommendation #1: « Ma biche et mon lapin ». Delightful, deranged miniature genius. » The Queen's Hall ‏@queens_hall

DATES PASSÉES
/ PAST DATES
2012
17 février THÉÂTRE DU CERCLE (création) / Rennes (35)
17/18 mars FESTIVAL MÉLISCÈNES / CENTRE ATHENA / Scène de Territoire / Auray (56)
01 avril THÉÂTRE DE POCHE / Scène de Territoire / Hédé (35)
14 juillet FESTIVAL RÉCIDIVES / Dives-sur-mer (14)
3 > 24 août FRINGE FESTIVAL / Institut Français d'Écosse / Edimbourg (Écosse)
29 septembre THÉÂTRE JULIETTE DROUET / Fougères (35)
25/26 novembre FESTIVAL MAR.T.O. / Bagneux (92)
2013
18/19 janvier CENTRE ANDRÉ MALRAUX / Hazebrouck (59)
26 mars LA FOUDRE / Scène Nationale / Petit Quevilly (76)
1 juin L'HIPPODROME / Scène Nationale / Douai (59)
25/26/27/28 juillet FESTIVAL CHALON DANS LA RUE / Chalon-sur-Saône (71)
20 septembre LA NUIT DÉFENDUE / Pessac (33)
22 septembre LE NEST / Centre Dramatique National / Thionville (57)
24/25 sept. FEST. MONDIAL DES THÉÂTRES DE MARIONNETTES / Charleville-Mézières (08)
7/8/9/10/11 octobre THÉÂTRE LE PASSAGE / Fécamp (76)
2014
30 mai FESTIVAL THÉÂTRE EN RANCE / Dinan (22)
7/8 juin FESTIVAL PARADE(S) /  Nanterre (92)
14/15 juin LES PRONOMADES / Centre National des arts de la rue / Alan (31)
28 juin FIGURA / Festival International / Baden (Suisse)
5 juillet CIE TRO HEOL / Quemeneven (29) pour les zonzans de la compagnie
12 juillet MÉDIATHÈQUE LOUIS ARAGON / Morsang-sur-Orge (91)
19/20 septembre LE NEST / Centre Dramatique National / Thionville (57)
27/28 septembre FÊTES ROMANES / Wolubilis / Bruxelles (Belgique)
2015
14 février L'HECTARE / Scène Conventionnée / Vendome (41)
13/14/15 mars VÉLO THÉÂTRE / Compagnie Conventionnée / Apt (84)
26/27 mars LE TIVOLI / Montargis (45)
28 mars GRAINES DE RUE / Bessines sur Gartempe (87)
29 mars L'EQUINOXE / Scène Nationale / Châteauroux (36)
11 avril LA QUINCAILLERIE / Le Vieux Marché (22)
23/24 avril FESTIVAL NO STRINGS ATTACHED / Mainz (Allemagne)
28/29 avril TEATRE REFLEKSION / Aarhus (Danemark)
01/02 mai FIRA DE TEATRE DE TITELLES** / Lleida (Espagne)
*prix du jury international et *prix de la proposition la plus innovante
13/14/15/16 mai LE SÉCHOIR – Scène Conventionnée / Saint Leu (île de La Réunion)
26/27/28 mai MAISON DES ARTS de Thonon-Évian / Publier / Armory / Chevenoz (74)
13/14 juin LES ROTONDES / Luxembourg (Luxembourg)
7 juin PARCOURSTOUTCOURT / biennale transversale / Kerguéhennec (56)
17/18 septembre FIGUREN THEATER FESTIVAL / Basel (Suisse)
19 septembre LA GRAINETERIE / Houilles (78)
11 octobre FESTIVAL INTERNACIONAL DE MARIONETAS / Porto (Portugal)
31 octobre THÉÂTRE À LA COQUE / LE TRIO…S / Scène de Territoire / Hennebont (56)
6/7 novembre QUAI DES ARTS / Pornichet (44)
4 décembre THÉÂTRE BRÉTIGNY / Scène Conventionnée / Méréville (91)
19 décembre THÉÂTRE BORIS VIAN / Les Éphémères / Coueron (44)
2016
6 février CENTRE SIONE SIGNORET / Cestas (33)
11 mars LE VOLUME / soirée short collectif AÏE AÏE AÏE / Vern-sur-Seiche (35)
01 avril LE CARRÉ / Scène Nationale / Château-Gontier (53)
02 avril SCÈNES EN MILIEU RURAL / Evron (53)
30 avril FESTIVAL SAPERLIPUPPET / La Chapelle-sur-Erdre (44)
12 et 15 mai FESTIVAL INTERNACIONAL DE TEATRE DE TERESETES / Mallorca (Espagne)
21 mai LA RUE DU MILIEU / Meignanne (49)
11 septembre FESTIVAL LUTKE / Ljubjlana (Slovénie)
23/24 septembre FESTIVAL MAF / Santander (Espagne)
6/7/8 octobre LA COMÉDIE DE BÉTHUNES / Centre Dramatique National / Béthune (62)
22 octobre AGORA THÉÂTRE  / THEATERFEST / Saint-Vith (Belgique)
11 novembre TIP-FEST / Turku (Finlande)
25 novembre ESPACE JÉLIOTE / Scène Conventionnée / Oloron-Sainte-Marie (64)
26 novembre VIA LA RUE / Langoiran (33)
2017
23/24 février LE THÉÂTRE DE LAVAL / Scène Conventionnée / Laval (53)
3 mars L'INTERVALLE / Noyal-sur-Vilaine (35)
17 mars L'EXCELSIOR / Allonnes (72)
25/26/27/28 avril L'AGORA / Scène Nationale / Evry (91)
12/13/14 mai FESTIVAL TITIRIMÙNDI / Segovie (Espagne)
20 juin ON VA AU PESTACLE / Gravigny (27)
12 septembre THÉÂTRE LES 3 CHÊNES / Loiron-Ruillé (53)